.01
about us
Greenwoods Land Management works alongside trusted community partners in our efforts to provide the best service for our clients. Each partner has been handpicked for their honest integrity and strong work ethics. We understand the hardships to property owners face trying to accomplish a project, that is why we have assembled a team of dedicated tradesmen. Greenwoods and our partners are ready for your call. Greenwoods Land Management is a fully licensed and insured family owned and operated company since 1986. We are dedicated to providing high-end land management services to both residential and commercial clients. Our drive is to exceed the expectation of our clients while enhancing the forests surrounding us all. We utilize our state of the art equipment as well as highly skilled personnel to help our clients reclaim their land.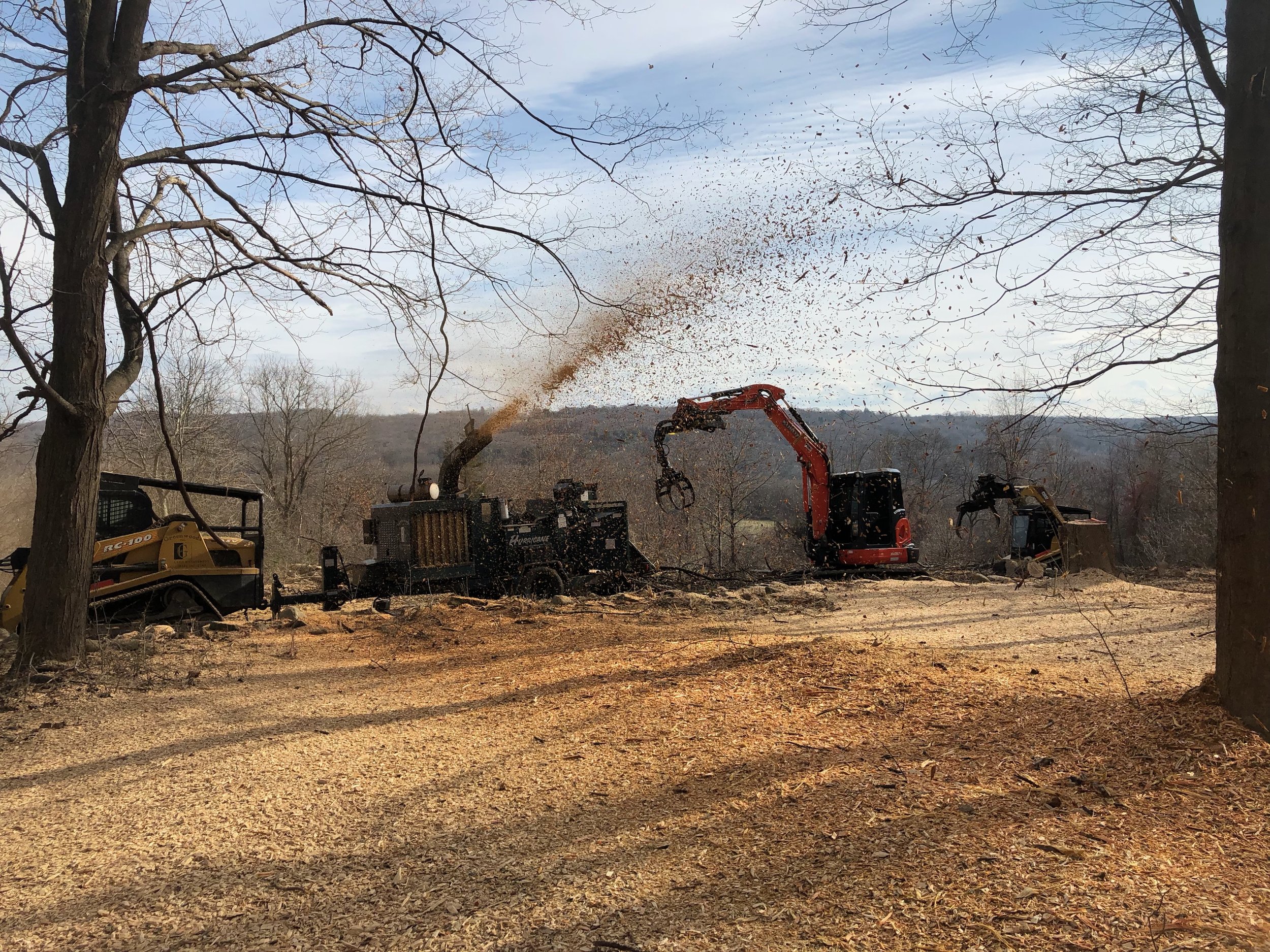 Forestry mulching is a process that rids undesirable vegetation such as trees, brush forest debris and stumps are ground into mulch by a low impact machine. The end result is a mulch that is evenly distributed over the cutting area, no brush piles, no burning, and no stripped land. This process actually reduces growth, prevents erosion, and add nutrients to the soil base.
- Forestry mowing
- Forest scape & park-like settings
- Habitat restoration
- Farmland restoration
- Trail construction
- Fence line clearing
- Invasive plant clearing
- Brush clearing


trails & paths
We focus our trail construction around activities such as hiking, biking, horseback riding, and cart paths. Trails are also a great way to enjoy the natural beauty of your property. To develop a trail we begin with the layout which is important to both maintenance and age. Greenwoods works with the terrain and landscape as it makes a more interesting to hike, bike or ride along with natural landmarks.

- Design & construction
- Mapping & plotting
- Clearing
- Surfacing & drainage
- Signage & marking
timber and harvest cleanup
Timber harvest is a way of managing woodland areas and this approach sometimes leaves an unsightly landscape. We work with foresters and landowners to make the project more aesthetically pleasing.
- Clean up slash & forest debris
- Chipping & mulching of debris
- Repair of skid roads & ruts
Land Clearing
Greenwoods utilizes a low impact approach to work with the environment. We feel it is important to minimize land disturbance and soil disruption.
- View clearing
- Forest thinning
- Yard expansion
- Hedgerow clearing
- Access roads
- Tree removal
- Development
Storm damage cleanup
When severe storms wreak havoc upon your property is disrupts your life. Greenwoods understands the effects a storm can cause on your home and more importantly your family. We will do our very best to restore things back to normal and make you feel safe again.
- Debris removal
- Wood chipping
- Damaged tree removal

Excavation
Excavation is something Greenwoods does on every job site. There is always some level of excavation necessary to complete a project. Whether it is a cleanup and or repair of skid roads, we have the machines needed to address your challenge.
- Clean up slash & forest debris
- Chipping & mulching of debris
- Repair of skid roads & ruts
Our Trusted partners
Here is an overview of our trusted partners. We have selected these businesses based off their community standing, craftsmanship, work ethics and experience. We have accomplished many projects in co-operation with these businesses, so we feel that it would be important to list them below.
brandson forestry
Ian Branson holds a Master of Forestry from the Yale School of Forestry and Environmental Studies and a Bachelor of Science in Environmental Conservation from the University of New Hampshire. Upon graduation from UNH in 1998 Ian began doing freelance land conservation and stewardship work for private land trusts and private individuals in Litchfield County, CT. While attending the Yale School of Forestry, Ian worked as a Research Assistant at the Global Institute of Sustainable Forestry, as a Teaching Assistant (TA) for Dr. Ann Camp's Forest Stand Dynamics class, as a TA for the Ecosystem Measurement Training Module at Yale-Myers Forest in Union, CT, as a TA for Dr. Mark Ashton's Silviculture class, and as a Forestry Technician Intern at the South Central Connecticut Regional Water Authority in New Haven, CT. Upon graduation from Yale in 2003 he became certified as a forester by the State of Connecticut, and since then he has been self-employed as a consulting forester doing business as Branson Forestry. He has been professionally affiliated with the Society of American Foresters (SAF) since 2002, serving as President of the Yale Chapter, Vice-Chair, Chair, and Past-Chair of the Connecticut Chapter, and attending the SAF Leadership Academy. In 2008 he was appointed to the State of Connecticut Forest Practices Advisory Board, serving as the representative of professional foresters in private practice.
Arbor services
Arbor Services is a complete tree care company: we plant, fertilize, transplant, prune, cable, install lightning protection, treat for insect and disease problems, remove trees, grind stumps, consult with and advise landscape architects. We educate and inform you about proper tree care.
We communicate and work with other licensed arborists and consulting arborists for best results. We want to help manage your investment, but not limit your options in the future. We have relationships with the tree care industry's best professionals for nearly 30 years. We will grow the legacy of your landscape, and make your project happen.
William Pollock (owner and lead arborist) and Stephen Banffy (safety director and foreman) are both Certified Arborists by International Society of Arboriculture (ISA). They are also Tree Risk Assessment Qualified (TRAQ) qualified by the ISA. William Pollock is an Advanced Certified Tree Warden by the Tree Warden Association of Connecticut.
Arbor Services staff also hold the following certifications:
• CTSP (Certified Tree Safety Professional) by the Tree Care Industry Association, Inc.
• AOLCP (Accredited Organic Land Care Professional) by CT-NOFA (Northeast Organic Farm Association)
green and sons llc
Green and Sons LLC is a family excavation company located in Litchfield, CT. Our over 50 years of experiences based down through three generations has made us an industry leader within the exaction and earthwork industry.
Green and Sons is owned and operated by Father and Son duo, Greg and Quentin Green. Their unique unified mindset allows their work to be of the highest quality.
We focus on high quality work and not only complete the desired work to perfection but guide the homeowner/client through the process every step of the way. We feel sharing our knowledge to our clients allows everyone to be much more informed.
Services we offer focuses mainly on large and small earthwork excavation, drainage, site development, home site work, trucking as well as repair.
brawley consulting group
Hunter Brawley, owner and manager of Brawley Consulting Group (BCG), has a Master's Degree in Botany from Connecticut College and has worked in the environmental field since 1995. The former Executive Director of the Pomperaug River Watershed Coalition, Mr. Brawley now provides land conservation and management services to land trusts and other non-profit organizations throughout Connecticut. His services include wildlife habitat restoration, trail design and construction, boundary location and posting, GIS mapping, grant writing, easement monitoring and preparation of baseline documentation reports and property management plans. He serves on the Connecticut Forest & Park Association (CFPA) Stewardship Committee and is currently a Circuit Rider for the New London County Land Trust Advancement Initiative.
Kent greenhouse gardens
When Debby and Bruce Bennett opened their florist in Kent in 1973, they had high hopes and enthusiasm to build a sustainable green business that could support their young family. A tiny greenhouse, unheated building and an antique caboose were the foundations for this now thriving company.
Time, hard work and more hard work saw the business expand as they became recognized for good value,
quality plants and a source for inspirational landscape design.
2018 sees the 46th celebration for Kent Greenhouse and both Debby and Bruce are still leading the way in the Garden Center and as the Principle for design.
oak ridge Construction
Oak Ridge quality and commitment goes beyond our reputation for houses and remodeling. We have a commercial department which over the last ten years alone has built over 150,000 square feet of multi-purpose buildings, many steel, some pole barn and masonry structures.
Some projects include car dealerships, day care centers, maintenance complex's, public rest areas, sky boxes for large recreational events, office buildings, garages, hospital, large cafeteria, and storage buildings.
With our qualified staff we can help you design and build to what ever your needs may be. We also offer a large range of options from shells to complete turn key projects. Our commitment and energy go beyond the finish product, we make sure your expectations are met.
other companies

Brian Neff
Remeika farm
Bennett Excavating
.03
CONTACT US
For pricing information and any other questions, please fill out the forum below and we will get back to you as soon as we can!
Greenwoods looks forward to connect with you. Please fill out the forum below if you have any questions about our services, land management or pricing. Our goal to to help you Reclaim Your Land! Contact us now…